Viên uống giải độc gan Swanson Milk Thistle 1000mg 100 Capsules được sử dụng cho sức khoẻ của gan với chức năng giải độc. Ngoài ra viên uống thanh lọc gan Milk Thistle 1000 mg của Swanson còn giúp chống oxy hoá cho cơ thể trước những tác động huỷ hoại của các gốc tự do.
Công dụng
✓ Hỗ trợ chức năng gan, giúp giải độc gan, làm mát gan.
✓ Ngăn chặn sự phá hoại của các gốc tự do, chống lão hoá gan.
✓ Phòng ngừa và hỗ trợ các bệnh về gan: gan nhiễm mỡ, viêm gan…
✓ Đóng vai trò quan trọng cho người bị chức năng gan suy yếu, uống nhiều bia rượu.
✓ Giúp bảo vệ lá gan luôn khoẻ mạnh.
Thành phần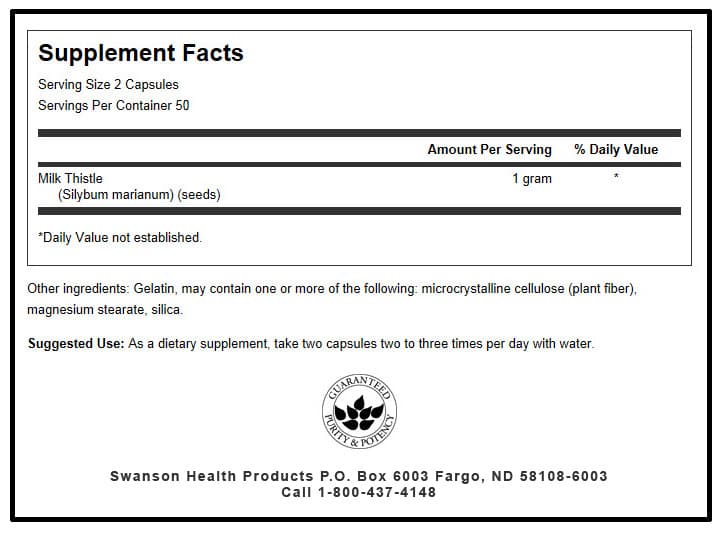 Gelatin, may contain one or more of the following: microcrystalline cellulose (plant fiber), magnesium stearate, silica.
Cách dùng
Mỗi ngày uống 2 – 3 lần. Mỗi lần dùng 2 viên.
*Lưu ý: Thực phẩm này không phải là thuốc, không có tác dụng thay thế thuốc chữa bệnh, hiệu quả sử dụng sản phẩm tùy thuộc cơ địa của từng người. Những bạn bệnh tim, huyết áp, hay phụ nữ có thai hoặc đang cho con bú nên tư vấn ý kiến bác sĩ trước khi sử dụng.